Motorcycle insurance in South Africa used to be fairly difficult to get. Because bikes and scooters were seen as very risky. However now a number of motorbike producing companies have developed their own cheaper cover.
Popular motorcycles to insure in South Africa
BMW
Honda
Yamaha
Suzuki
Kawasaki
Harley Davidson
KTM
Triumph
Cheap motorcycle insurance prices in South Africa are normally through a broker.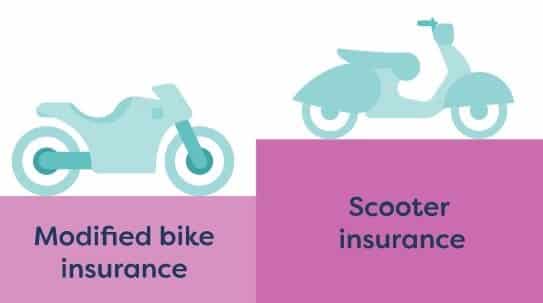 So comparative quotes on motorcycle insurance can be provided by a number of companies.
Such as:
The Insurance Hound (www.InsuranceHound.co.za)
Dial Direct (www.dialdirect.co.za)
OutSurance (www.outsurance.co.za)
Bikeline (www.bikeline.co.za)
Whether you use them, or whether you search yourself, it is important to remember that the lowest quote does not necessarily mean the best deal. Therefore all factors should be evaluated carefully.
This may also interest you: Absa iDirect Motor and Household Insurance
The Types of Motorcycle Insurance available in South Africa
Cover is either for you (first party) or for someone else involved in an accident with you (third party).
Comprehensive bike cover is normally the most expensive. Because it covers your motorcycle for all accidents and any type of loss or damage. This is considered first party insurance.
Third party insurance, which is the cheapest form, covers incidents when you as the motorcycle driver cause an accident. Or drive into another vehicle.
Third party, fire and theft insurance covers those incidents. As well as providing cover for you if your motorcycle is stolen, or damaged by fire. Off road bike cover is provided by some companies. For dirt bikes etc.
The prices of motorcycle insurance depend on a number of things
The cost of the motorcycle
Driver's age
How long you have been driving
Where the motorcycle is kept and ridden
How often you have claimed from your insurance before
How the motorcycle is used (i.e for work or pleasure – work is more expensive)
Insurance also varies depending on whether it is an on-road or off-road motorcycle like a dirt bike.
So there are a number of things that can affect your premium. If you are a new driver it is better to get a less powerful motorcycle. Because this will influence your premium positively. Finding motorcycle insurance in South Africa need not be a daunting task.
Fully Comprehensive Cover for Motorbikes
Fully comprehensive cover for motorbikes can be found at a number of leading insurance companies across South Africa.
However, the best place to look for bike insurance prices is by comparing quotes on the Internet. As well as speaking to an insurance broker should you have one.
This way you can work out all of the pros and cons per policy and can make a decision. However there are some things that you should know before you start looking.
Firstly, fully comprehensive cover for motorbikes is generally more expensive than that of motor vehicle insurance. Because the risks associated with riding a bike are higher than that of driving a car.
This means that should you be looking to purchase a bike to try and save costs, then you need to be aware of all of the costs associated. Before you purchase. This higher rate of insurance is one of those costs.
In addition to higher premiums, generally the "fully" comprehensive cover is not comprehensive at all. This is why it is so important to know all of the facts about the cover. Before you sign any documentation or agree to anything.
Bikes may be more fuel efficient and may help you get to work earlier in the morning. As you weave your way through the traffic instead of sitting in it. However you may end up paying higher prices than you expect for monthly instalments.
Compare Motorcycle Insurance Quotes
To compare motorcycle insurance quotes means that you have to get information from a few companies that you are going to use. And request quotes from them.
Finding the companies in the first place is quite easy. There companies on the internet that you could use to get quotes from and then you take it from there.
With at least four or five motorcycle cover quotes in your possession, you can sit down and decide which will be best for you to use. You have to look at all the aspects though, and not just the price of the insurance they are offering.
What this means is that when it comes to having to compare motorcycle insurance quotes you have to look at more than the installment amount.
For example, look at what you are getting for the price you will be paying and determine whether it is worth it. Or look at which company offers you more value for your money.
The benefits are important but so are the features of the policy so be sure to keep that in mind when you are looking at your quotes for bike insurance.
Companies that offer Motorcycle Insurance in South Africa
A few of the most common companies there are to choose from when you need to insure your motorcycle are:
Budget
Insurance Hound
Hollard
Dial Direct
Miway
OUTsurance
King Price
Bikeline
All you have to do is get in touch with these companies and they will send you your quotation after going through your documents.
Check out the OUTsurance website for bike cover here.
If you get a motorbike insurance quote that is cheaper from one company, you can tell the other company their competitor has quoted you a lot cheaper than them.
So then you can ask them if they can better their own quote. Compare motorcycle insurance quotes now so your bike can be covered. The sooner the better!
Find Cheap Motorcycle Insurance
Cheap motorcycle insurance is available when you are looking for affordable cover. For your BMW, Suzuki, Honda, Yamaha or even your scooter. There are many companies that you can use.
You want the premiums to be cheap, but they must not be so cheap that it is useless to you. The whole point of insurance is so that your motorcycle can be covered in the event of theft, an accident, fire, etc. So you have to make sure that the cover you get is going to benefit you.
Look at the different policies available and decide which of them is for you.
There are a few aspects you have to look at before you go out and find cheap motorcycle insurance.
First of all you have to determine what types of affordable cover you need most. Will it be for theft, accident, fire, or other natural causes?
Otherwise you could get the comprehensive insurance that will cover you for everything.
This is normally the option that most people take as then they know they are insured and don't have to worry. But it is generally more expensive than the other premiums.
The choice is yours. It all boils down to exactly what cover you need for your bike. And how much you can afford to spend on premiums every month.
In Conclusion
Whether you have a scooter, Yamaha, Suzuki, BMW or Honda doesn't matter. It is your wheels and you want to make sure it stays that way. This is why you will invest in bike insurance.
Get quotes from the different companies and compare them in order for you to determine what will work out best.
Look for the company that offers affordable insurance, not just lower prices. You can find a cheap motorcycle insurance policy, but make sure it is going to be worth it.