Santam and Sanlam – what's the difference? Even their symbols have a similar message. With Santam's protective umbrella and Sanlam's clasped hands. Indicating that both will keep your financial matters safe.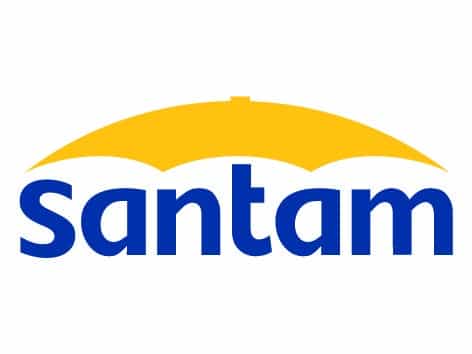 The Suid-Afrikaanse Nasionale Trust en Assuransie Maatskappij (Santam) was first registered on 28 March 1918.
However before the group even registered it was decided that the life insurance department would be a separate company.
Therefore, the Suid-Afrikaanse Nasionale Lewens Assuransie MaatskappijBeperk (Sanlam) was registered shortly after Santam on 8 June 1918.
In 1935, Sanlam acquired the African Homes Trust (later renamed Metropolitan Life) from parent company Santam. Today, Sanlam is the leader of the organisation.
More about Sanlam Vs Santam
The Sanlam head offices are in Bellville, just outside Cape Town in the Western Cape.
The group was demutualised in 1998 and was listed on the Johannesburg Stock Exchange.
In other words, you can see Santam as the parent company. Which gave birth to Sanlam in order to convert the life assurance department of Santam to a separate company.
So this means that long-term profits (for policy holders) are separate from short-term profits (for shareholders).
Sanlam became the spearhead operator and Santam kept its focus on short term insurance solutions.
The short term insurance cluster offered by Sanlam is actually outsourced to Santam (in which they hold 57% shares). And the 26% shares Sanlam has invested in Shriram General Insurance in India.
So between Santam and Sanlam – what's the difference? The answer is that they are two different companies. Born from the same group of people who envisioned a separate structure for different insurance policies.
The companies remain connected. However as Sanlam refers their short- term insurance clients to short term insurance providers Santam.
Sanlam has become the leader of the operation.
You may then ask, why don't Sanlam simply buy out Santam? Sanlam owns 57% of Santam.
Because to buy the company or to increase their share would mean that they would have to pay a huge premium. (Substantially more than the market price) and make the transaction not worthwhile.
Santam is the largest short-term insurance company in South Africa and has been showing excellent turnover in the last years.
The Chief Executive Officer of Sanlam says that they would like to own more of the company. But are prevented in doing so by the high premium.
About Sanlam
Sanlam has grown from being a life insurance company to include a number of financial services offered by the company.
Sanlam provides financial products to both institutional and individual clients. Providing a range of services such as:
Trusts
Personal loans
Home loan
Estate planning
Individual insurance
Group insurance
Short-term insurance (through Santam)
Savings and similar products
Investments
Asset management
Stock broking
Property asset management
Risk management
Capital market activities
Like the short term insurance offered by Santam, many of the above services are on offer from business entities. That are mutually dependant within the Sanlam group. 
About Santam
In the short-term insurance sector, Santam has a market share of over 22%. Focusing on commercial, corporate and personal markets.
Santam has an asset accumulation of over R17 billion as the leading short term insurer in South Africa.
This may also interest you: Santam Car Insurance
The company has set up a high tech contact centre to serve the whole country and has over 650 000 policy holders.
Santam also extends its scope to include other African countries such as:
Malawi
Zimbabwe
Uganda
Zambia
Tanzania
There is also a subsidiary group in which Santam hold strategic investments, Santam Namibia Ltd. in Namibia.
The company considers it core strength to be the relationship between clients and insurance brokers. Although Santam have confidence in the abilities of their brokers, the company also offers other channels of communication. As well as access to their insurance products.
In Conclusion
So there you have it. Hopefully you understand the main differences now between Sanlam and Santam. Two of South Africas most respected companies.